Principe Hotel Catania is the first 4 stars deluxe hotel in Catania's Historical Centre.
It is only 50 metres away from Via Etnea
Via Etnea is the city's main street. It goes from Piazza Duomo to Tondo Gioieni.
Via Etnea was created after the 1693 earthquake which destroyed the most of the old city. The Duca di Camastra, decided to design the new streets all in square lines, departing from the Duomo, which survived to the destruction. So he created a street which was directed towards the mount Etna (so the name Etnea). Originally, the street was only 700 metres long and ended where today we have Piazza Stesicoro, which was one of the city's main gates.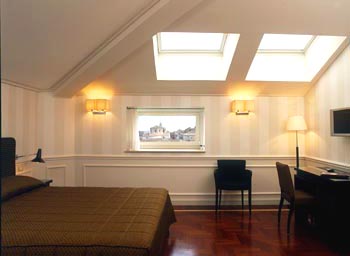 All the Baroque Style buildings long to via Etnea were created by the architects Giovan Battista Vaccarini and Francesco Battaglia. There are 7 churches: the Cathedral, the Collegiata Abbey, the Minoriti church, the San Biagio church, the SS. Sacramento church, the Sant'Agata al Borgo church and the Badiella church. Among the main buildings, starting from Piazza Duomo, we have Palazzo degli Elefanti, the town hall, Palazzo dell'UniversitÓ and Palazzo San Giuliano. Then we have Palazzo Gioieni and Palazzo San Demetrio ai Quattro Canti. Inside Piazza Stesicoro there is Palazzo del Toscano and Palazzo Tezzano.
Today Via Etnea is much frequented during the day and the night as well, due to the great number of shops and pubs. During the week all the young population of Catania is dislocated between the hundreds of wine-bars, pubs and pizzerias based in the neighbourhood.